Jackson Magazine held its eighth annual Top Teachers Awards yesterday, and named Tom Hunt of Jackson High School its 2018 Teacher of the Year.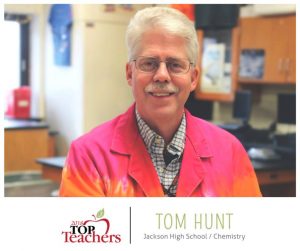 (PHOTO: Audrey Spring – Jackson Magazine)
In a press release, Jackson Magazine notes that the top five teachers will feature recognition in the May issue of Jackson Magazine, and four top teachers received $1,000 grants from their partnership with Jackson Community Foundation and the Hurst Foundation. Teacher of the Year Mr. Hunt received $5,000.
The Top Teachers of 2018:
Teacher of the Year: Tom Hunt, Jackson High School
Jonell Hasselback-Zenker, Jackson High School
Candice Moline, Warner Elementary (Western School District)
Nancy O'Neill, St. Mary Star of the Sea School
Alison Resor, Middle School at Parkside (Jackson Public Schools)
Nominations are now being accepted for 2019 Top Teachers at jacksonmagazine.com. To be eligible, a teacher must have five years experience and teach K-12 in a Jackson County School.