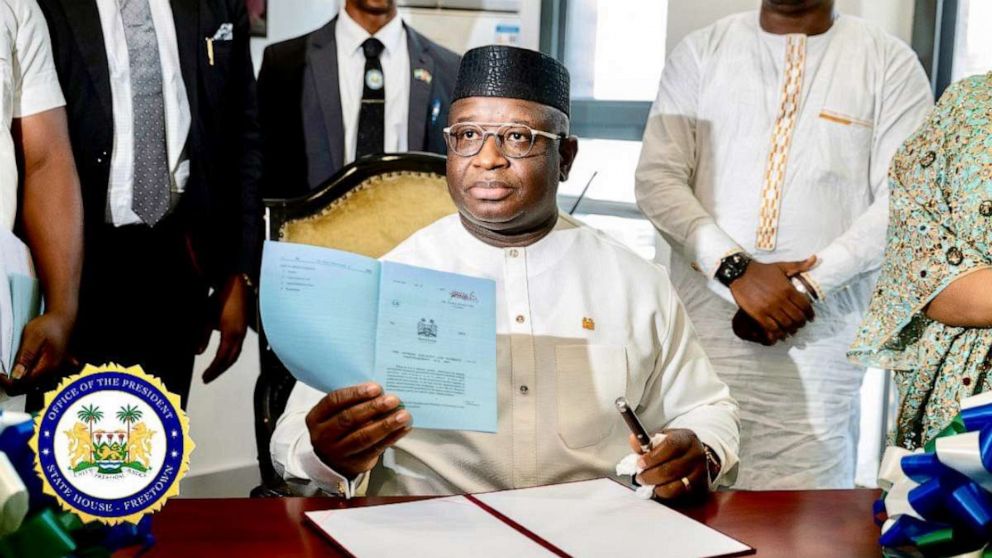 (LONDON) — A new law designed to increase the number of women in positions of power in both private and public sectors came into force in Sierra Leone on Thursday.
More than a year after the legislation was first tabled in Sierra Leone's Parliament, lawmakers voted unanimously to pass the Gender Equality and Women's Empowerment Act in November. Now, Sierra Leonean President Julius Maada Bio has signed the bill into law, just five months before general elections.
The Gender Equality and Women's Empowerment Act includes a legal requirement for all designated private and public bodies in the small West African nation to ensure at least 30% of their workforce is female. That ratio must be maintained across all levels within the organizations, with the legislation explicitly stating that 30% of leadership or decision-making roles must be set aside for women.
The act also specifies a 30% minimum quota of women for all elective and appointive positions in Sierra Leone's government or public offices, along with the requirement that every government department has its own gender unit within its planning office. The country's current electoral rules call for one in three candidates for elected office to be female.
Sierra Leone's president, who is running for a second and final five-year term in office, took to Twitter on Thursday after signing the "landmark" law, saying in a series of posts that "REAL CHANGE has been ushered into our great nation."
"The Bill will also revolutionise our government's engagement with WOMEN – making them equal partners in our task to build a strong and vibrant country," Bio tweeted. "Women's rights are Human rights."
Under the new law, employers in Sierra Leone must provide at least 14 weeks of maternity leave as well as equal pay, training and treatment for women as compared to men. Previously, female employees were generally entitled to 12 weeks of paid maternity leave.
Moreover, employers are now legally required to prohibit discrimination on grounds of gender. For instance, the new law makes it illegal for an employer to fire a woman when she becomes pregnant, and a bank criminally liable if it fails to provide the same commercial support opportunities to women as it does for men.
The act states that any employer who discriminates against women in violation of the 30% quota or any other aspect of employment law faces a fine of at least 50,000 new leones (about $2,500). Meanwhile, any breach of the credit fairness rules by financial institutions is punishable by prison sentences of at least three years as well as fines.
Sierra Leonean Minister of Gender and Children's Affairs Manty Tarawalli is responsible for designating the organizations to which the new law applies — a status that's expected to be given to any group with more than 25 employees. Tarawalli praised the "groundbreaking" law," which she said "will break the economic and political exclusion shackles for urban and rural women across the country."
"Today is a historic day when Sierra Leone can rightly say it has legislation carefully designed to do away with gender inequality," Tarawalli said in a statement Thursday. "Today is an important step in the right direction, but more steps will have to be taken before the country can say fairness has been achieved across the genders."
ABC News' Kiara Alfonseca contributed to this report.
Copyright © 2023, ABC Audio. All rights reserved.