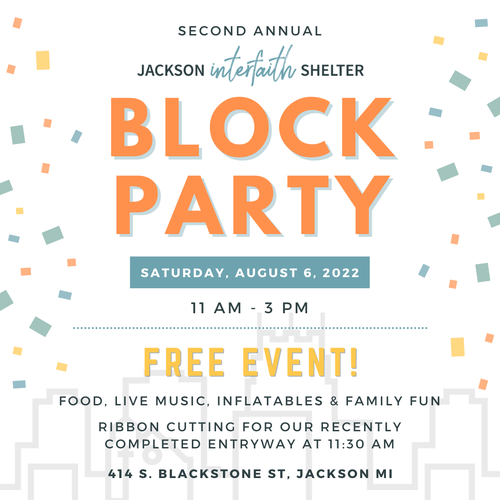 Jackson, Mich. – The Jackson County Chamber of Commerce announces the ribbon cutting ceremony and second annual Block Party for Jackson Interfaith Shelter. This will be hosted on Saturday, August 6 starting at 11am located at 414 S. Blackstone St., Jackson. Ribbon will be cut at 11:30am.
Jackson Interfaith Shelter will be celebrating the completion of the entryway and auditorium renovation project. The renovation was made possible by the generosity of many community partners, including Consumers Energy Foundation, Bill & Vi Sigmund Foundation, Pat & Phil Willis Foundation, John George Children's Scholarship Foundation, Melling Family Foundation, Jackson Community Foundation, Saint Gobain, Emmons Service Inc., Eaton Corporation, Alro Steel/Alvin Glick Foundation, and over 75 local churches and individual donors. Brian Shaw and Anna Sondergard donated their time and expertise to put together the renderings and interior design of the renovation. Tours of the shelter will follow the ribbon cutting.
The Block Party is a free community event from 11:00am – 3:00pm which takes place in the parking lot on the corner of Blackstone St. and Franklin St. The event will include lunch served by MyPlace Jackson, live music, a foam party and inflatables, face painting, lawn games, live broadcast from HOME.fm, Vietnam Vets open house, fun activities with Jackson Police Department, and more! This event is made possible by the generosity of event sponsors Emmons Service Inc., American 1 Credit Union and HOME.fm, as well as day-of partnership by Westwinds Community Church, Vito's Espresso, Frosty Boy and Gwen's Greens.
Join us to celebrate on August 6 starting at 11am.