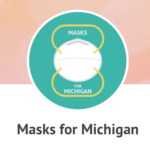 Kim Gamez, Jackson native and founder of Mi Padrino, has started a fundraiser and hopes to raise enough money to donate 100,000 much-needed CDC-approved N95 surgical masks to the medical community. She is using her unique online business platform to get the job done.
"Mi Padrino is an event planning platform for the Hispanic community based out of Jackson, MI that helps hundreds of thousands of families plan and fund traditional Hispanic celebrations," says Gamez. "Last year alone we had over 900,000 users of the platform. In Hispanic culture, you will have 'padrinos' (godfather or sponsor) to help pay for different parts of your event, kind of like crowdfunding or a gift registry." Mi Padrino sources goods from all over the world that they sell online, while also allowing their users to create event pages and receive gifts online.
Kim's lightbulb moment came after she had read posts and comments from her nurse friends on social media about the lack of proper personal protection equipment in the medical field. One such post read,
"Right now, we receive ONE single one-time-use surgical (not even n95) mask, per week. Throughout the week, we use this single mask over and over again every shift. This contaminated mask is repeatedly placed into a paper bag with our name on it for the entire week's use. Never in a million years would I have guessed I'd be preserving a one-time use mask on several patients per shift. I worry about the health of our patients, myself, and the family I come home to. I pray that my worn-out mask is enough to protect myself from bringing anything home to my 4month old twin boys. I went into healthcare knowing I'd face difficult days, but I never dreamt a limitation in PPE could put my family at risk. I wear this "soiled" barrier walking down the hallways, to the lactation room, and even the cafeteria, knowing that's the only choice I have and it is better than nothing. I definitely never imagined questioning my healthcare career choice or if I did more harm to a patient than good on a day to day basis. I'm sad and I'm scared, but knowing that our HFAH team may have an opportunity for clean, safe N95 masks would sure make leaving and coming home to my little family a whole lot easier."
Kim then realized that she had access to a supplier of N95 masks, and that using her own website to collect the funds & resources would eliminate the need to pay 3rd party crowdfunding fees. She had a brainstorming session with Alex Tanton, Mi Padrino's CTO, and the idea was brought to life.
"Needless to say it was a great idea," says Gamez. "Alex and I worked all day on Saturday creating a custom landing page for the cause, I had some amazing friends reach out to help with their networks, talents and resources, and by Sunday morning we had already shared the page and got our first donations."
For more information or to donate, visit MichiganMasks.com.
For a list of accepted medical supply donations accepted by Henry Ford Allegiance Health, click here.