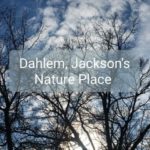 It's spring. The winter weather is finally giving way to spring, breaking 50 degrees for 2 days in a row.
During this time of isolation, we are still allowed to go outdoors – and encouraged to, as long as social distancing is practiced.
The Dahlem Environmental Education Center located at 7117 S. Jackson Rd. is asking residents to share their outdoor exploration stories and photos from the Jackson area on a specially dedicated Facebook event page here.
The Dahlem has five miles of scenic walking trails that are open dawn til dusk, 365 days a year.
With the closure of Michigan gyms, this is a great way to stay active and enjoy some fresh air while you're doing it.