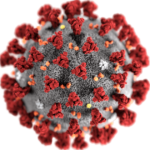 [Jackson, Michigan]
Henry Ford Allegiance Health confirms they have had 12 positive cases of COVID-19, 7 of which are hospitalized.
The State of Michigan is reporting 2,295 total cases in the state. There have been 43 total deaths in Michigan attributed to COVID-19, none of which have been in Jackson.
People who may have been exposed to COVID-19 and/or have mild symptoms such as fever, cough, muscle aches and/or fatigue are advised to stay home, self-isolate, and consult with your doctor by phone or your MyChart account.
Henry Ford Allegiance Health is asking people not to arrive at a medical facility unannounced for your own safety and the safety of others.
If your symptoms worsen, such as high fever and/or rapid breathing, call 911 and alert the operator of your possible exposure so the EMS crew can prepare for transport and limit exposure to others.
Stay up to date with the latest COVID-19 regional and local updates here from WKHM, and tune in to 970AM, 101.5FM or online at WKHM.com to hear from local officials on the matter.