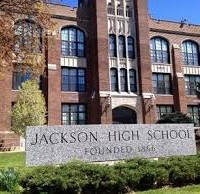 The 'heartbeat' of Jackson High School has decided to retire at the end of the school year.
For a link to the full interview, click the link below.
The longtime Jackson High Principal Barb Baird Pauli, has announced that she will be retiring at the end of the school year. "It was an incredibly challenging place to be in making that decision. Jackson High School and Jackson Public Schools have been an integral part of my life for 31 years now. It was a decision that was incredibly difficult to come to and yet when I think about and give consideration to  the reasoning for the decision, it was the right reason; and it was the right thing to do" she said.
Her last official day will be June 30th. Baird Pauli said that the classroom environment has been a part of her life for much longer than just 31 years in the field. "Education, for those of us in education, we've been doing it since we were 5 years old. I was in fact a kindergartner at Bloomfield Elementary when I made the decision to become a teacher and knew at that time, not only a teacher but in some fashion I would be a bigger part of the education picture. This is such a huge part of my life and my world, it is an emotional choice, and it is a decision not taken lightly. This is my life's mission, this is my life's vocation, and the transition is going to take some adjusting."