The Jackson County Chamber of Commerce will join The 200 on their upcoming Groundbreaking Ceremony on Tuesday, May 14. The event will be at the 200 block of N. Jackson Street, Jackson, MI from 11 A.M. to 12 P.M.
THE 200 will be a mixed-use development of residential and commercial space. The building will be four stories tall, with 4,100 square feet of commercial space on the first floor. There will be 86 market-rate upscale apartments with studio, one-bedroom, and two-bedroom options. Leasing is expected to begin in December 2019.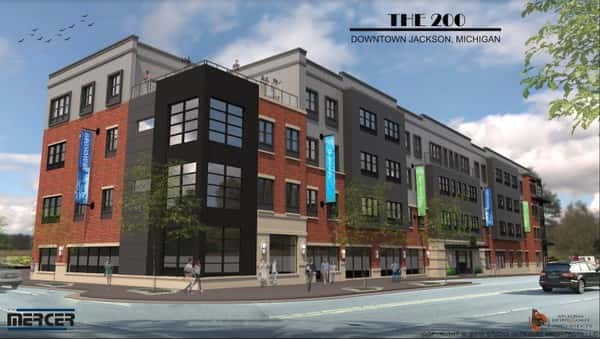 The project involves the City of Jackson working in conjunction with the Jackson Downtown Partners (JDP), a group of local business professionals committed to the current and future prosperity of the Jackson community. The 200 is bringing a $13 million investment into the city of Jackson with construction costs over $11.8 million. This development is a collaboration of RW Mercer as the selected Construction Manager, County National Bank, the City of Jackson, Studio Intrigue Architects, and the Jackson Smart Energy District of Consumers Energy. Construction contracts include local contractors that comprise approximately $7.9 million and non-local contractors that comprise approximately $3.8 million of the cost to build The 200. Bid packets were sent to 165 contractors, in 18 contractor services or materials categories. The JDP is pleased that most of the contractors are local, noting that non-local contractors were chosen because there was no local company that bid for the specific service or product.
The Groundbreaking Ceremony will include remarks from Kevin Thomson of JDP, City of Jackson Mayor Derek Dobies, and Consumers Energy President & CEO Patti Poppe.
Jackson City Manager, Patrick Burtch, stated, "The City of Jackson continues to realize growth and development throughout our community. New businesses and city residents add to our tax base and help us continue to improve services to every person living in Jackson."