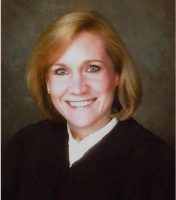 51 year-old Judge Catherine Steenland of the 39th District Court in Roseville has been charged with two misdemeanors related to a hit and run crash that happened in September of last year.
The judge has been charged with one count each of failure to stop at the scene of a personal injury accident and failure to report an accident.
On September 25, 2017, the victim of the accident provided police with a license plate number and description of the driver, alleging that Judge Catherine Steenland had crashed her sedan into his car and fled the scene.