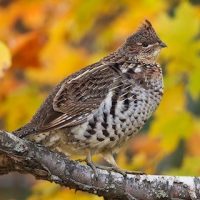 Five ruffed grouse birds have tested positive for the West Nile Virus, according to the Michigan Department of Natural Resources. It's the first time the disease has been confirmed in Michigan's ruffed grouse population.
There have been 39 human cases of West Nile in Michigan this year.
The five birds were collected in Delta, Iron, Missaukee and Roscommon counties from August through October.
West Nile is primarily transmitted to humans through infected mosquito bites.
The DNR says there is no evidence of human infection from properly cooked game.