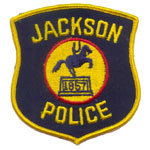 Jackson, MI – Jackson Police Chief, Matt Heins last day on the job was Friday.  And his last interview was on News/Talk 101.5 & 970AM:
The biggest issues these days, besides the abundance of guns on the streets is the Herion Epidemic:
Hiens has seen staffing reduced substantially over his almost three decades.  So much so he was forced to head up the Fire Department:
Heins moves on to run Security for Henry Ford Allegiance Health after a 27 year run at JPD.