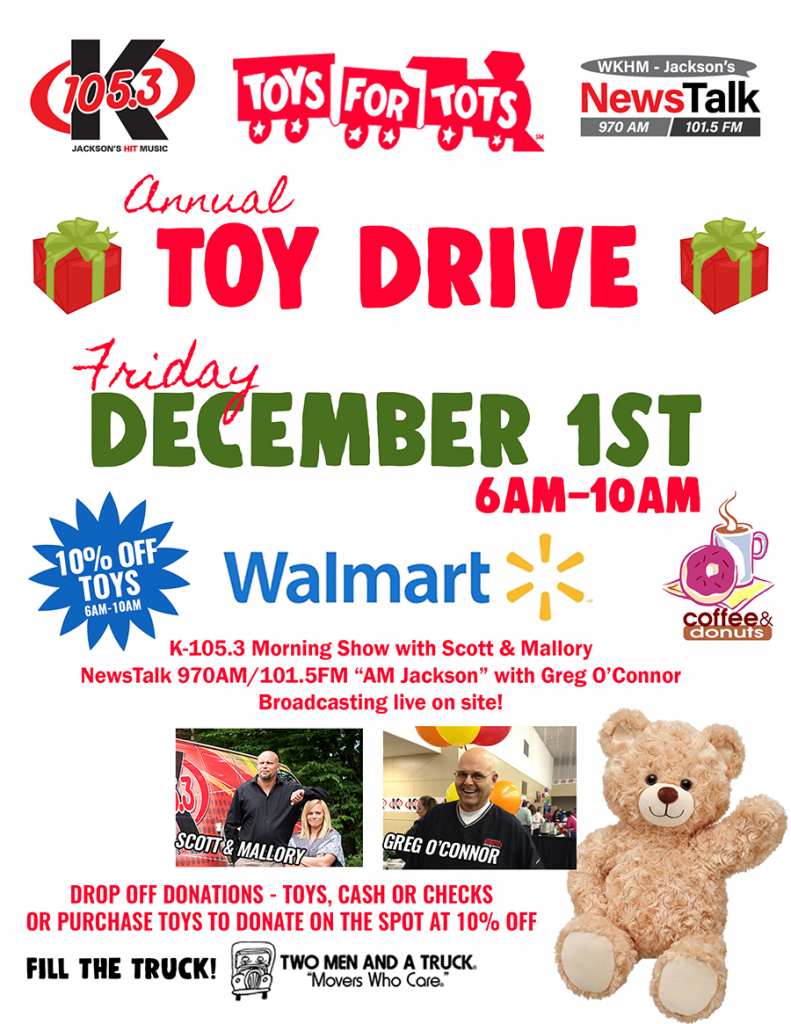 WKHM & K-105.3 Annual Toys for Tots Drive
Friday, December 1st
6am-10am @ Walmart
at the Westwood Mall, 1700 West Michigan Ave.
Join us for our annual Toys for Tots Drive while we broadcast the morning shows on both stations LIVE and accept your donations!
Drive right up to the entrance (home & pharmacy) and drop off your donations- we'll be waiting for you! OR come inside and warm up with some free coffee & donuts and shop for toys to donate – and get 10% off your purchase!*
Also accepting canned goods/nonperishable food items and donations for the Salvation Army
In 2016, together we raised over $8,000 in donations for Toys for Tots – can we beat it this year?
*10% off applies to toys purchased 6am-10am on December 1st, 2017
All Toys for Tots 2017 Donation Drop-Off Locations:
McDonald's – 6011 Ann Arbor Rd.
McDonald's – 3310 E. Michigan Ave.
McDonald's – 121 E. Main St. Spring Arbor
145 Truck Stop – 6100 Ann Arbor Rd.
Advertising Solutions Today
Aeroquip Credit Union – 501 Laurence Ave.
Aeroquip Credit Union – 300 S. East Ave.
Aeroquip Credit Union – 901 Plymouth St.
Henry Ford Allegiance – 205 N. East Ave.
American 1 Credit Union – 1238 E. McDevitt Ave.
American 1 Credit Union – 102 Brooklyn Rd.
American 1 Credit Union – 718 E. Michigan Ave.
American 1 Credit Union – 760 E. Michigan Ave. Grass Lake
American Legion – 211 Chicago St. Brooklyn
Brooklyn Presbyterian Church – 160 N. Main St. Brooklyn
Christoff & Sons – 109 S. Elm
Columbia Central High School – 11775 Hewitt Rd. Brooklyn
Columbia Fire Station – 8500 Jefferson Rd. Brooklyn
Columbia Middle School – 321 School St. Brooklyn
Countryside Retirement Community – 2140 Robinson Rd.
CP Federal Credit Union – 2055 Spring Arbor Rd.
Craft Agency – 2533 Spring Arbor Rd.
Dawn Foods – 3333 Sargent Rd.
Double Chiropractic – 1211 Warren Ave. at Spring Arbor Rd.
Dr. Donna O'Neill – 214 N. Elm Ave
Eagles – 9500 Wamplers Lake Rd.
Eagles – 302 5th St. Michigan Center
East Jackson High School – 1566 N. Sutton Rd.
Edward Jones – 219 E. Michigan Ave Grass Lake
Fifth Third Bank – 3245 E. Michigan Ave.
Flagstar Bank – 108 Brooklyn Rd., Napoleon
Flagstar Bank – 3045 E. Michigan Ave.
Flagstar Bank – 101 Broad St. Michigan Center
Ganton's Countryside Retirement Community – 2140 Robinson Rd.
Grass Lake Chevy – 11851 E. Michigan Ave. Grass Lake
Grass Lake Library – 132 W. Michigan Ave.
Grass Lake Sportsman's Club – 13505 Leach Rd. Grass Lake
Insurance – 6007 Ann Arbor Rd.
Jackson District Library – 207 N. Main St.
Keicher Elementary – 137 Broad St. Michigan Center
KIA of Jackson – Page Ave.
Marshall Motors – Ann Arbor Rd.
Menards – 3588 Page Ave.
Michigan Center High School – 400 S. State St. Michigan Center
MIS – 12626 US-12, Brooklyn
Onsted State Bank  417 S. Main St. Brooklyn
Orbitform – 16000 Executive Dr. off E. High St.
Penn Chiropracti – 1905 Horton Rd.
ReMax – 2300 W. Michigan Ave.
Smith Barney 3101 Spring Arbor Rd.
Suburban Lanes – 3801 Ann Arbor Rd.
Summit Fire Station – 2121 Ferguson Rd.
Summit Fire Station #2 – 2507 Spring Arbor Rd.
TAC – 4111 County Farm Rd.
Tenneco – 3901 Willis Rd. Grass Lake
Walgreens – 3040 E. Michigan Ave
CareerQuest – 209 E. Washington Ave #241
Consumers Energy – Commonwealth Commerce Center
Action Packaging – 2400 E. High
American 1 Credit Union – 1521 Parnall Rd.
American 1 Credit Union – 930 W. North St.
Ann Arbor State Bank – 611 N. Wisner St.
Antique Mercantile – 409 Hupp Ave.
Amy Recruiting – Jackson Crossing
Big Misters Pizza – 107 Spring Arbor Rd. M-60 Concord
Blackman Public Safety – Parnall Rd.
Campus Den – Westwood Mall
Center for Family Health – 505 N. Jackson St.
Commonwealth Engineering – 2700 W. Argyle St.
Consumers Energy – 1945 W. Parnall
Consumers Energy – 1935 W. Parnall
Consumers Energy – Jackson Service Center 1955 W. Parnall Rd.
Consumers Energy – Lab 135 W. Trail St.
CP Federal Credit Union – 1100 Clinton Rd.
Creative Graphics – 430 N. Mechanic St.
Dollar General – 1220 W. Parnall Rd. #3
Dollar General – 2200 Wilwood Ave.
Dollar General – 1052 Cooper St.
Dollar General – M-106 Pleasant Lake
Dollar General – 8031 E. Main St. Spring Arbor
Dollar General – Main St. Concord
Dollar General – 410 N. Parma St. Parma
Dr. Sheets – 1615 Carlton Blvd.
Exit Realty – 740 Laurence Ave.
Five Below – Jackson Crossing
George's Towing – Cooper St.
Hanover Horton Elementary – 131 Fairview St. Hanover
Independent Bank – M-106 @ E. Berry Rd.
Jackson Fire Dept. – 518 N. Jackson St.
Jackson Community Federal Credit Union – 408 E. Ganson @ Cooper
JC JDOT Elm Street
Mancino's – 1196 N. West Ave
Marathon – 2090 Morrill Rd.
Marine Recruiter – Jackson Crossing
Maxium Gymnastix – 7851 Spring Arbor Rd.
MDOT – M60 @ Michigan Ave
Peak Manufacturing – 11855 Bunkerhill Rd. Pleasant Lake
Prison – Administration Building – 3955 Cooper St., 4000 Cooper St.
Prison – Charles Egeler Reception & Guidance Center – 3855 Cooper St.
Prison – Cotton Correctional Facility – 3500 N. Elm St.
Prison – Duane Watters Health Center – 3857 Cooper St.
Prison – Jackson Region Human Resources – 3400 Cooper St.
Prison – Cooper St. Coorectional Facility – 3100 Cooper St.
Pulaski Township Hall – 12363 Folks Rd. Hanover
Reardon Realty – 910 N. West Ave
Richmond Agency – 833 Laurence Ave Suite A
Roadhouse – 4112 Lansing Ave.
Spring Arbor Fire – 107 Teft Rd. Spring Arbor
Starbucks – West Ave.
Toys R Us – Jackson Crossing
Walgreens – 1314 N. West Ave.
Western High School – 1400 S. Dearing Rd. Parma
Cracker Barrel – 2494 Airport Rd.
Dollar General – 3330 Spring Arbor Rd.
Dollar General – 3025 E. Michigan Ave.
Dollar General – 317 Brooklyn Rd. Napoleon
Dollar General – 300 Main St. Brooklyn
Dollar General 4530 Page Ave. Michigan Center
Dollar General – 5841 Ann Arbor Rd.
Dollar General – 811 McDevitt Ave.
Dollar General – 9452 S. Meridian Rd. 127 S
Dollar General – 120 N. Union St. Grass Lake
Friend of the Court – 1697 Lansing Ave.
Jackson County Airport
Jackson County Animal Shelter
Jackson County Chanter Rd. Jail
Jackson County Courthouse
Jackson County Human Services
Jackson County Parks Dept
Jackson County Sheriff's department
Jackson County Tower Building
Jackson County Youth Center
Richmond Brothers
Dahlem Center