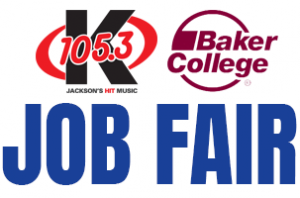 Mark your calendars:
Tuesday, September 12
11am-6pm
@ Baker College, 2800 Springport Rd., Jackson, MI – BUILDING 100  (Follow the signs!)
K-105.3 & Baker College are having a job fair! Come visit with employers, recruiters, and businesses offering services that could help you advance your career – all under one roof, for one day.
Meet with employers and service providers like…
Baker College
AccessPoint
Ganton's Countryside Retirement Center
Great Lakes Health Care
Aertech Manufacturing
Kelly Express Mart
Flexible Staffing
Isselhardt Nissan
Xcel Staffing
America's Navy
Jackson YMCA
Diversified Engineering
United Methodist Retirement Community
Ross Design & Engineering
Manpower
US Staffing Agency
Elm Plating
Great Lakes Industry
MACI
Lloyd Ganton Retirement Centers
Orchid Orthopedic Solutions
U.S. Army
U.S. Marine Corps
Henry Ford Allegiance Health
Royal Adhesives & Sealants
Subway
Community Action Agency – Head Start
and more!
Want to be a part of our Job Fair? Call 517-787-9546 or email mlibke@k1053.com